---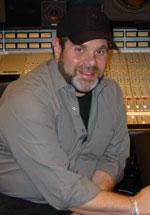 Bob Rosa's recording career has encompassed every genre of music, mixing some of the biggest Pop, Rock, Dance, R&B and Latin hits. Scores of multi-platinum albums and singles bear his signature mixes. One if his first recording projects was working on the landmark Hip-Hop classic "Planet Rock" (the first 12" single to go Gold) by Afrika Bambaataa and Soul Sonic Force. He went on to mix the classic dance hit "Gonna Make You Sweat" (5 million units) by C&C Music Factory; one of Whitney Houston's premier singles, "I'm Every Woman," from the best selling soundtrack of all time, "The Bodyguard" (17 million units); Mariah Carey's "Emotions" (4million units); *NSYNC's "God Must Have Spent A Little More Time On You" from their self-titled album (10 million units). He also received two Grammy nominations for Best Dance Track for remixes of Gloria Estefan's "Heaven's What I Feel" and "Don't Let This Moment End" (both remixes produced by the legendary Tony Moran), a Latin Grammy win in 2002 for his work on Alejandra Guzman's "Soy" lp and a Grammy win for the Best Reggae Album by Toots & The Maytals in 2005 ("True Love").

Currently, Bob is working on projects with artists Richie Marley Booker, Kēvens, Rachael Warfield, Steph Heymann, and Miami songwriting & production/development duo "Dirty Southaners" (Omar Tavares and Aaron Fishbein) just to name a few.

OUT OF STATE? OVERSEAS? ON TOUR? NEED TO HEAR YOUR MIXES OR WORKS IN PROGRESS BUT CAN'T COME TO THE STUDIO?

No matter where you are, we can still work together via SOURCE-LIVE!!!

WHAT IS SOURCE-LIVE? Source-Live enables instant world-wide access to our studio. A complement to Source-Connect, Source-Live sits in our audio session and sends our mix directly to our clients. We email you your Live link, and you can log on to this Gateway - or open the stream directly in QuickTime - and listen immediately.

No additional software required, no end user charges. And with direct management within the plug-in, we control who listens in. Source-Live is compatible with Pro Tools from versions 6.4 and up, many VST hosts, Mac OSX and Windows.

---