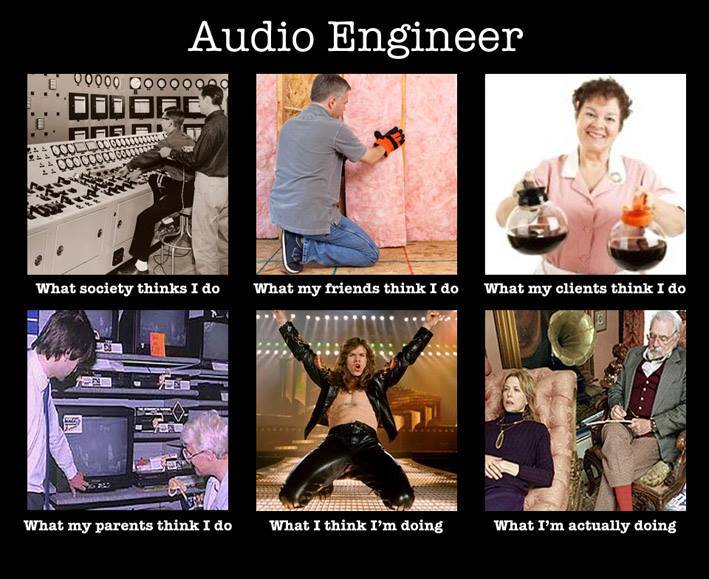 Billy Amendola, Associate Editor at Modern Drummer Magazine
"Anytime I've worked with Bob he was always professional and got the job done as needed. If I saw he was behind the board, I knew the session was happening! "

Debbie Gibson, via Twitter
"One random memory from making #ElectricYouth LP?" Eating Doritos n peanut MnM's while mixing w/Bob Rosa!"

KĒVENS, Artist
"Simply the best producer I have had the pleasure of working with.
Bob Rosa is a Grammy winner, what else can I say!

Vicky Larraz, Singer/TV Host/ Visionary Entrepreneur
"Well, it is an absolute pleasure to work with Bob, not only as a professional but he creates a very comfortable atmosphere to work in. Highly recommend him and will definitely hire him again in the near future!"

Gary Rottger, Owner, Virtual Interactive, Inc.
"Bottom line, Bob makes the mix happen. Bob has great ears, great skills and great equipment. He is always easy going, yet confident and provides a creative professional atmosphere to any project. I look forward to mixing with you again Bob.

Mike Webber, Pro Audio Specialist, former assistant engineer, Unique Recording
"Many engineers have a "sound" for which they are known - Bob has the unique ability to not only capture but enhance the artist's sound, without imposing his own signature - and that is the best sound of all!"

Angel DeLeon, TRILOGY, C + C MUSIC FACTORY
"What can one say of a man who built his career with the utmost integrity, tremendous attention to detail and the best intention for whomever the client is . I had the pleasure of working with BOB ROSA and watched him mix various hit records while working with C & C Music Factory along with myself and others who appreciated his sense of humor and relaxed attitude as he gave it that extra BOB ROSA UUUUUMMMF! If anyone wants a record to pump at a club you would bring it to BOB. To this day he mixed a hit record I was on called "BORICUA ANTHEM" the percussion and Horns Pop! Bob Rosa hands down "The Best""

Tony Drootin, Area 51 Studios, NYC
"I had the pleasure of working with Bob for many years during the time I was manager of Unique Recording Studios and he was a staff engineer, and eventually when he left to become independent. Bob's talents brought value to any project he was involved with whether it was C&C Music Factory, Prince, Mick Jagger or Sheena Easton. Besides being a pleasure to work with he has the ability to make any project and any Genre of music sound better. I highly recommend him. I also am proud to consider him a good friend."

Jesse Stoll, Artist Manager
"Couldn't say anything but amazing things about the great Bob Rosa - Grammy awards and countless accolades... His work is nothing but the most professional down to the best perfection... Bob produced and mixed several records of the band that I managed, "Big Bang Radio" and really brought out the magic and crystal clarity that a great band deserves..."

Bashiri Johnson, World Famous Percussionist
"I have been blessed to work with Bob Rosa on many hit recordings, where Bob was either Engineer, Mixer or Producer. Bob would always leave me in amazement of how incredible the project would sound. Bob has the rare talent of creating a total multi sensory experience thru his work. Bob gets my highest recommendation, and I look forward to working with him again."

Rich Overton, RJO Artists
"Bob is amazing. He mixed my client Ari Gold's newest record Transport Systems. Ari was extremely happy working directly with Bob. Bob is a pro at what he does and we couldn't be happier with how the album was mixed. I hope to hook up more of my clients with Bob in the future."

Paul Nicholas, Recording Artist
"I have NEVER sounded so good in my whole life. He is an amazing talented person. He is a great Writer/Producer/Engineer, I am floored every time I hear the album that he made for me. I guess Madonna and Janet Jackson know how to make a hit. "I'm not worthy" ha ha ha (on my knees)"


Music industry insider Frank Ceraolo reviews the "Pacha NY" collaboration between Jonathan Peters and Bob Rosa in his "May I Be Frank" music blog:

COULD THE RESURGENCE OF DANCE MUSIC BE RIGHT AROUND THE CORNER (YET AGAIN?!?!) !!

I spent quite an interesting evening last night listening to some amazing dance music with some good friends who also are long-standing music industry colleagues. If there's one thing I have learned about this business, there are some of us that in this industry because of our LOVE & PASSION, and then,there are others who are just in it to make a "quick buck".

This tends to separate the MEN from the "boys" and the WOMEN from the "little girls".

It continually amazes me how alliances form and how various talents "gravitate" to one another...so it was NO surprise to me, to hear about the recent collaborations of Jonathan Peters and Bob Rosa.

I have known Bob, and his wife, Gerri,for many years, i.e., deep into my "Epic Years", and not enough have been priveleged enough to feel/sense/hear/experience the talents of Bob Rosa. Many studio heads and label people are aware of his amazing talents at a mixing console, but those are just a facet of this multi-talented producer/remixer/engineer.

A few months ago, BR and another acclaimed NY DJ/remixer/producer, Jonathan Peters, merged their talents on the club remix of Christina Aguilera's "Hurt", which became not only a "labor of love" for them, but unfurled into "classic" status as the original album ballad version was transformed into an overwhelming floor churner on dance floors across the country (and beyond).

This collaboration led to another one,which, from what I've heard thus far, has "cemented" this duo as a force to be reckoned with in our community and for the music industry pundits at large.

I can attest to the influence and impact of this newly formed working partnership, as I have been witness to both producers honing and continuous meticulously perfecting their talents.

With Jonathan, I was aware that there was something "a-brewing", early in the 90's, as his nights at NYC's Sound Factory, were not only packing the club in by the thousands, but was getting him exposed onto NYC's radio airwaves.

His weekend mix shows, featuring some of his own productions, which became much sought after in the community(albeit underground), and had built him up as a solid name and a"larger than life" image (he likes to EVERYTHING "big"!).

We were introduced in 1998, but became aware of the astute talent that was "brewing" in that massive brain(that never seems to shut off) the following year as he was about to"explode" onto the scene with his first "crossover" hit, which was what most of us came to experience as, "The 2nd Coming of Whitney Houston".

JP's remix of "My Love is Your Love"surged this amazing NEW radiance to Houston's lagging career, boring R&B production, and somewhat sluggish album and single sales.

Feeling this firsthand, as I was a club regular in NYC nightclubs during the mid-to-late 90's, when this song hit the turntables, it infused an energy into club goers, like a magnet to precious metal....they could NOT resist!

This led to Houston's mega club roll of FOUR consecutive Number 1 DANCE/CLUB hits in 1999, beginning with "It's Not Right, but its OK" in January[3wks], "Heartbreak Hotel" in April [1week], "My Love is Your Love" (remixed by Peters) in August/September[2 weeks], and rounding out with "I Learned from the Best", in February of 2000 [3 weeks].

This clinched Houston as "Queen of the Clubs", especially in the gay clubs, where Houston soon would make an"unprecedented appearance" at NYC's Gay Pride Festival/Finale Dance Party on NY Pier on the West Side Highway in June of 2000, as a small token of her appreciation for their overwhelming support.

After JP's production on Houston, he would soon lend his talents to other artists, including Donna Summer,whose track, "Love is the Healer", on Epic, reached Number 1 after "My Love..", earning JP his 2nd NUMBER 1 of that year.

For what seems to be a challenging period of transition and growth for many industry players and studio wizards,the circle has gone a full 360 degrees to mid 2008, and we are once again, mesmerized by JP's talent, enhanced by the production hand of Bob Rosa.

As mentioned previously, they have re-worked (and/or created) the following tracks that I personally, think are "FIERCE":

"Like You'll Never See Me Again"/Alicia Keys/j--

I have often wondered WHY there has never been a "decent" club mix of Ms. Keys out for club consumption...and NOW, I know why! They've just been "holding out", and Alicia is quite personal about her music, and rightly so...it's so FIERCE in its original form!

But with the chart yo-yo-ing this track has experience on the HOT 100, and the fact the video has mainly driven this track from DAY 1, which was sometime last year, this 14+ minute EPIC JOURNEY makes you feel like you're with Keys in the ER handing her the pads to revive her beau!

A GEM! Hope j can get it out there in reasonable time...and do an EDIT for radio!

"I'm A Fire"/Donna Summer/Sony/Burgundy

The set of original mixes on this NUMBER 1 Club record, to say the least, left me a little limp...but after hearing this JP/BR remix, I felt like I had been given a sample of "ENHANZ-E" (the male enhancement drug)...the mix is the "spot-on" platform to showcase the still "classicly LARGE vocals" that Summer possesses, even at the ripe age of 60!

"Mr. Man"/Jonathan Peters featuring Silva/Peters NY label, Deeper Rekords

This was a MAJOR SURPRISE for me! This is still play in in my head, continuously looping...but has so many reminiscent qualities of classic club music of the 90's, with fresher approaches production and soundwise, and never disappoints throughout its long nights journey into daylight! This track will be available for download soon through Masterbeat.com. Please read below for more info on how to access some of this AMAZING music via this CLUB music download website!

"Alright"/Jonathan Peters feat. Katreese Barnes/Deeper Rekords

"Alright" is many things, but left me with my hands in the air! It's definitely one of those anthemic club hits (inspiring you to reminisce longingly to club classics from Lighthouse Family and Sunscreem) which will be PERFECT for gay pride parties across the country this summer! Also avail via Masterbeat.com.

"Yelele"/Jonathan Peters feat. Bashiri Johnson & Mai Lingani/Deeper

This tribal chant monster with definitely have you channelling spirits that you NEVER thought you were hiding inside yourself! Just bring your tribal dance mask and get ready to have some "out-of-body" experiences!

WHAT AN INCREDIBLE SET OF PRODUCTIONS!!

Kudos and Congrats to JP & BR-- if this is an early indication of your collaborative chemistry, I will need to fly up to NYC to go clubbing...'cause I certainly can't have a decent club experience in Miami!

I did hear more great music...but I am not sure what tracks I am actually "privvy" to speak of and/or "toot toot...heyyyyyy, beep beep" their respective horns on...suffice it to say, that everything I heard contained "fresh beats, great vocal reworkings, intense segues and a no-holds-barred "fasten your seat belts" ticket on a journey, as many of the tracks clocked in at 10 minutes+.

I await MORE productions from these two men and their forthcoming work!!

Could THIS be the "resurgence" of DANCE MUSIC that we have LONG been anticipating?!?!? We can ONLY hope!!

BRING IT ON BOYZ!!!